Why windcoloured
Windcoloured begins in Iceland
The word "windcoloured" does not really exist in the English language. So I guess I owe you a little explanation.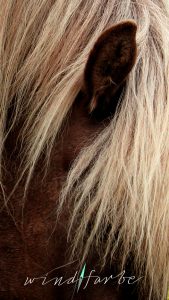 In the German language "Windfarben" (windcoloured) is the translation for the Icelandic word "vindótt". I stumbled across this wonderful word when my mom and me travelled to Iceland for the first time in 2006.
Iceland is a mythical country in the north, formed from fire and ice, inhabited by trolls and elves and home to about 80.000 Icelandic horses. Among horse people they are famous for their toughness and their 5 gaits. And then there is particularly beautiful coloured kind of Icelandic horse with a very dark coat and a white-silverish mane. Vindótt. The colour of the wind.
My first encounter with a windcoloured horse was a very… um… special one. A complete beginner to photography I stumbled through Iceland with my small compact camera and was then caught by the electric fence surrounding "my" Vindótt horse.
Hungry for more…
And still, it remains the moment when I became hungry for more. Hungry for places that have the courage to find a colour for the wind. Curious about places where the sun never sets and cultures that see fox fires in the northern lights.
I wanted more of those wonderful spectacles of nature, landscapes and other worlds. And I wanted more freedom. Just leave. Stop where I like it. Sleep where it is beautiful. Exploring. Big things, little things, places that affect me (I'm sentimental about that kind of stuff), change me and give me a different perspective. Places that I won't forget.
Find the magic
We live on one amazing planet and some of us are highly privileged to be able to explore it.
There is magic everywhere. Magic that everyone finds in a different place and in a different way. Back then it came with the colour of the wind which has become a loyal travel companion. A whispering wind that reminds me to have a closer look. To find the magic.
Almost 11 years later the circle closes here on Iceland. From all those wonderful memories and out of my constant wanderlust I have started building this blog and I am happy that it will take its first little baby steps here on Iceland, the place that once gave it its name.
I hope that with this blog I can get some of you excited about some beautiful places and inspire you to have a closer look. I will share stories, photography and also some artwork that is usually sparked on the go.
The wind paints with a lot of colours.