When the Dertour Community "Urlaubsliebe" called for a writing contest I could not hold back. The first price was a trip to Northern Sweden and a dog sledding tour and all I had to do was write a report about a travel destination in northern Europe. When it comes to northern Europe I am spoilt for choice. I would recommend everything in Scandinavia. However, me and my mom had just been on our huge road trip through Scandinavia and because Svalbard left a lasting impression, I decided to go with it.
So here's the winning story about our polar bear encounter in Svalbard.
If you want to read about the little adventure trip to Lapland, that we won, you will find it here.
---
Short detour to Svalbard
Actually we're on our way to the north cape and because the north cape is not the north cape if you haven't celebrated every single kilometer on the way there, we take our time. We are huge fans of Scandinavia but the supposedly always foggy rock at the most northern tip of the European mainland is still missing on our map. Our car is our bed (we swapped the back seats for a mattress) and so we drive north through Norway and back south through Finland, Sweden and Denmark. It is a funny idea to take a short trip to Svalbard in the middle of all that. Later at the north cape we will probably have to trick ourselves into thinking that we're at some most northern point… 10.000 km of beautiful Scandinavia, every single one worth a thousand words but that would exceed this report. So I will stick to Svalbard and hope to pass on some of the wild magic.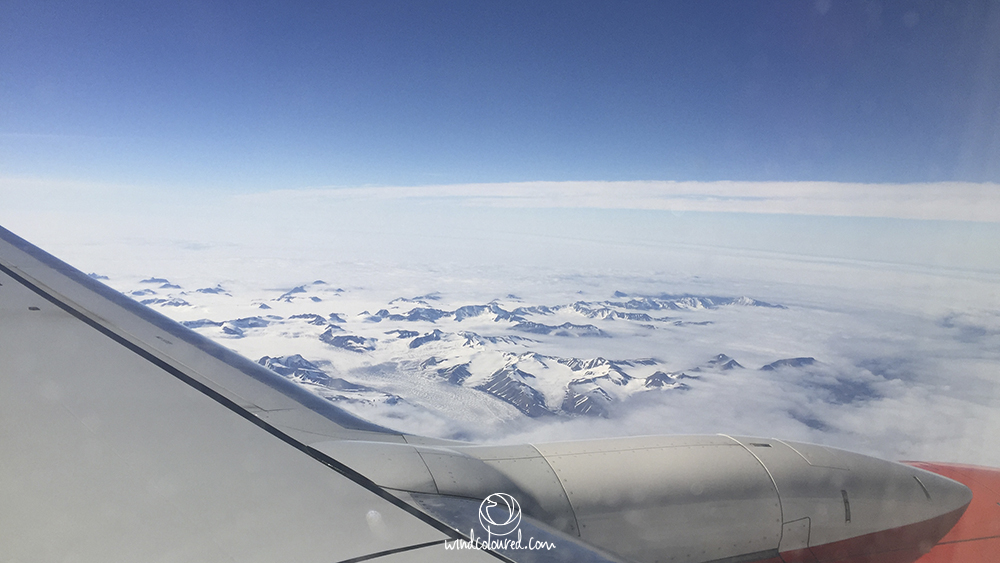 Finally. Land in sight. After two days in the baking heat of Tromsö we are quite excited about our first glimpse at Svalbard as we fly over it. Beneath us the snow covered and pointed mountaintops ar peeking through the clouds. They once gave Svalbard its German name – Spitzbergen (pointed mountains). I have never been further north. It is a different world against which Tromsö or the Lofoten Islands (my most northern points so far) inconspicuously snuggle right into the cosy Scandinavian landscape.
The airport bus takes us right to our hotel, the Coal Miners Cabins and we can get a first impression of Longyearbyen and its surroundings.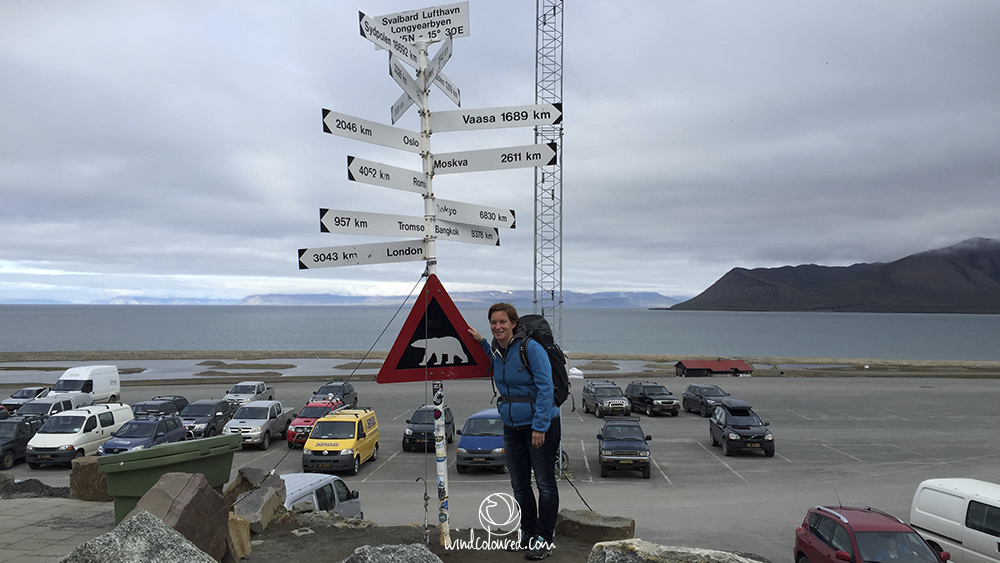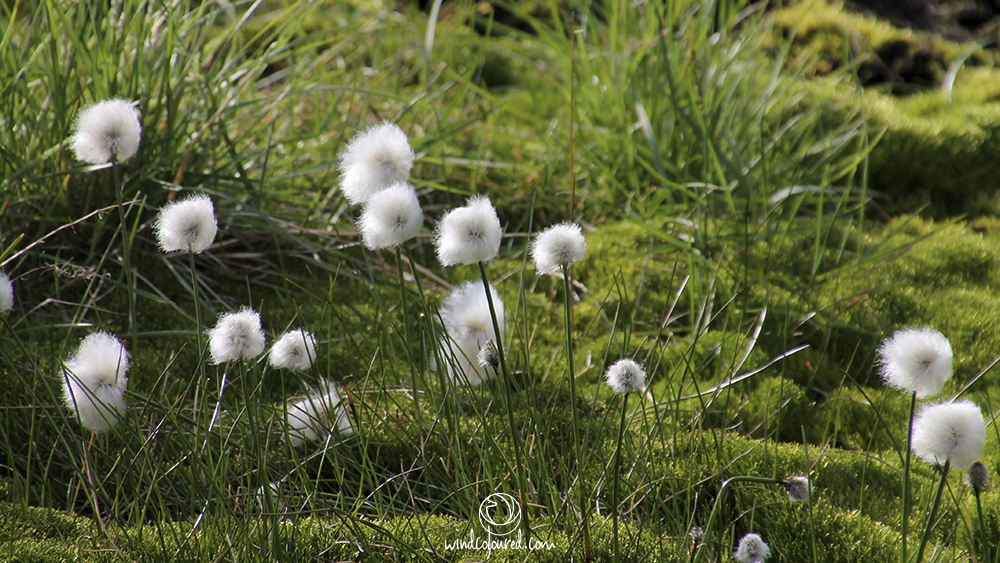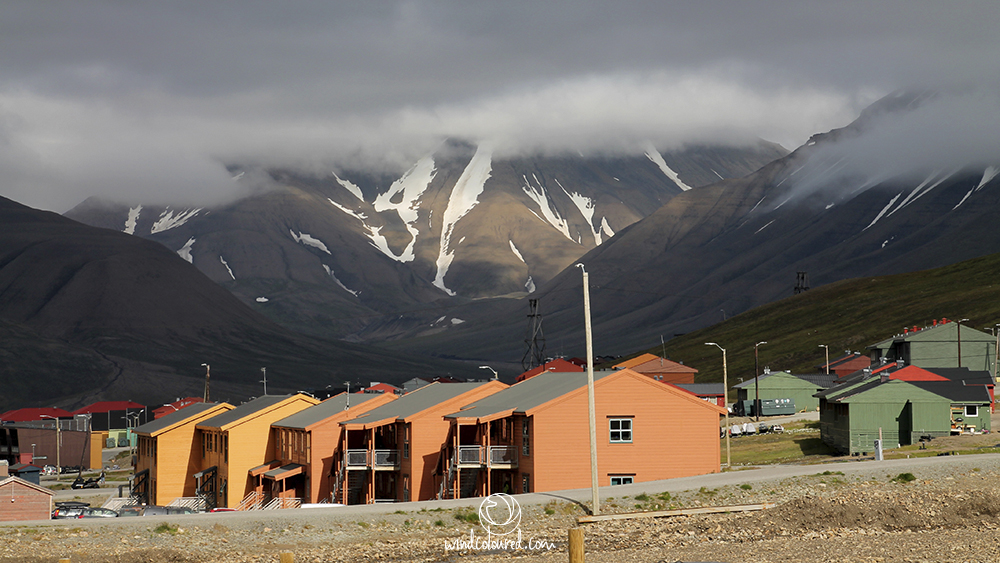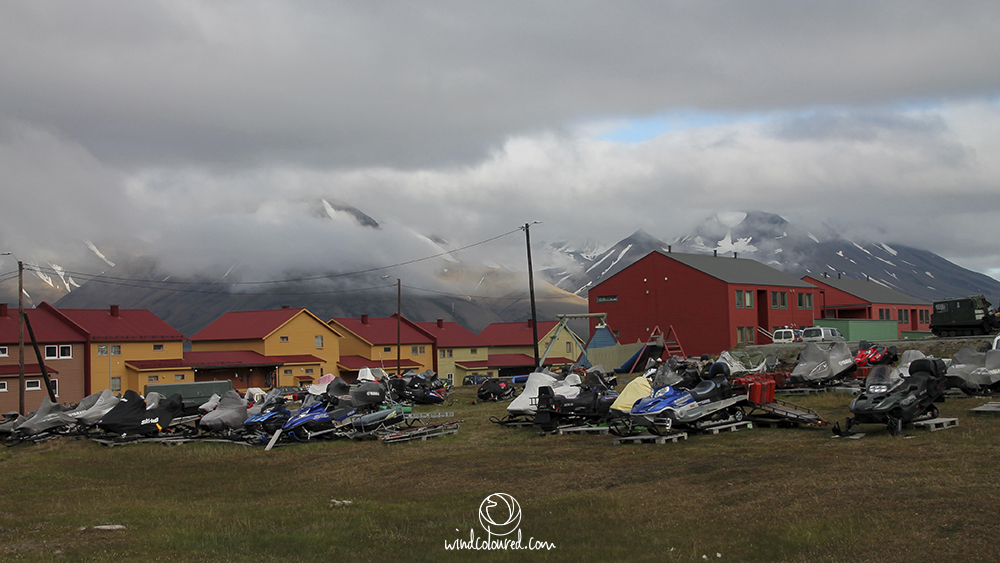 A wild and barren piece of land, so high up north that the midnight sun shines as if it were noon. Home to the largest land predator – the polar bear. And I want to see one.
Midnight sun hike to plateau mountain
The chance to see a polar bear on our hike up to the plateau above Longyearbyen is pretty thin, but that's fine. Actually I do not really feel like watching how Morten, our guide, will possibly have to shoot the animal. Many polar bear encounters are peaceful and friendly because humans are actually not their favourite food. However, there is bad years and when the polar bears do not find enough seals the situation could get uncomfortable…
The gun is loaded because without one you are not even allowed to leave the village. The track is steep but we get there eventually and are rewarded with a fantastic view over Longyearbyen. Then we make our way across the plateau where the permafrost has drawn scarily accurate circles into the rocks. They can't even bury people here in Svalbard because the permafrost would push them back up to the surface after a while. That also explains why all pipes and electrical lines are above the ground and make Longyearbyen look like a permanent building site. As impressive as Svalbard is, it is no wonder people only live on Svalbard for an average of three years. The breathtaking nature is also merciless.
We reach the end of the plateau and reverently look at the little monument which reminds of a deadly polar bear attack. A few reindeer appear in the fog. They look different than their relatives on the mainland. Morten explains that these reindeer don't share any blood with them. They have adapted to the nature of Svalbard which kind of makes the island a Galapagos of the north.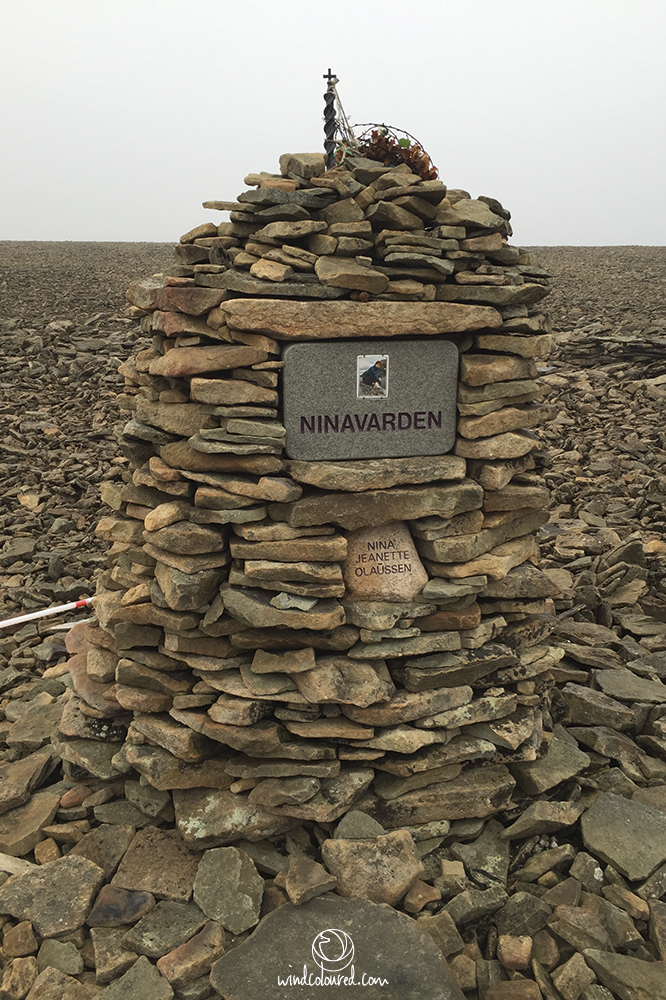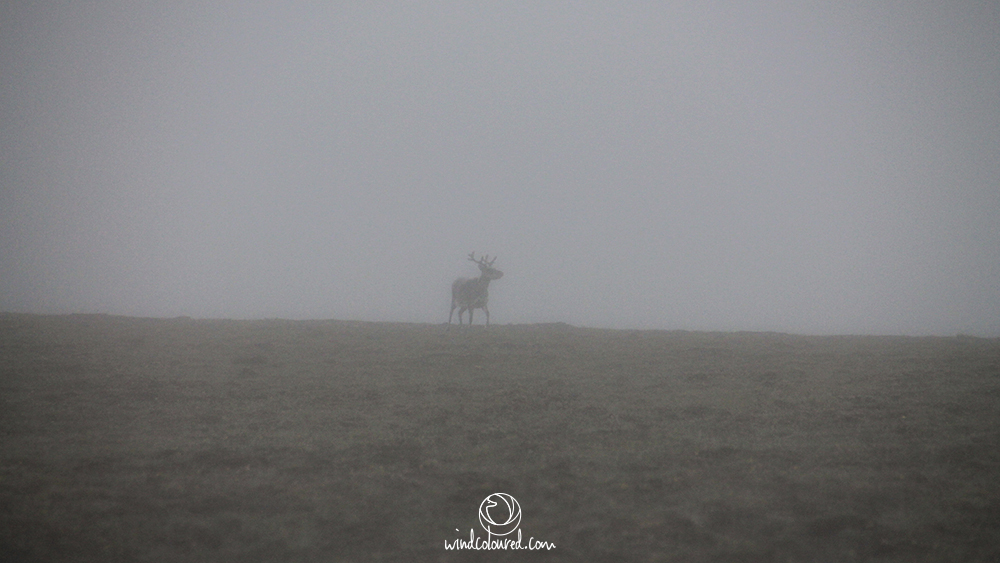 A stream cuts its way through the rocks and we follow it downhill. The thought of a cold beer down at the Coal Miners Cabins lets us march on because the track through the rugged riverbed is difficult and exhausting. No rock seems to be steady, no patch of snow promises to carry our weight.
Shoes off, then beer
Exhausted but happy we swap our shoes for a pair of slippers when we get to the pub. A tradition that Scandinavians usually only cultivate at home is valid in every house on Svalbard. Take your shoes off at the pub, the church or the museum. And do not even think about not doing that.
Svalbard has its own micro brewery and the beer is especially tasty this evening.
Boat tour to Pyramiden
On the next day we take it a little slower and take a boat trip to Pyramiden, an almost abandoned Russian mining town in the Billefjord. The weather is fantastic and while we sail towards the Nordenskiöld glacier, Jim and his dog Freya from the Svalbard Villmarkssenter show us the bird life of Svalbard or tell fascinating stories about the adventurers of Svalbard. Or did you know that Svalbard has a global seed vault? Important seeds from all over the world are stored here in the permafrost and can be extracted in case of emergencies like war or natural catastrophes to recover the stock.
We have a barbecue on deck for lunch and then sail close to the glacier as a whale shows its fin while we pass majestic mountains along the fjord.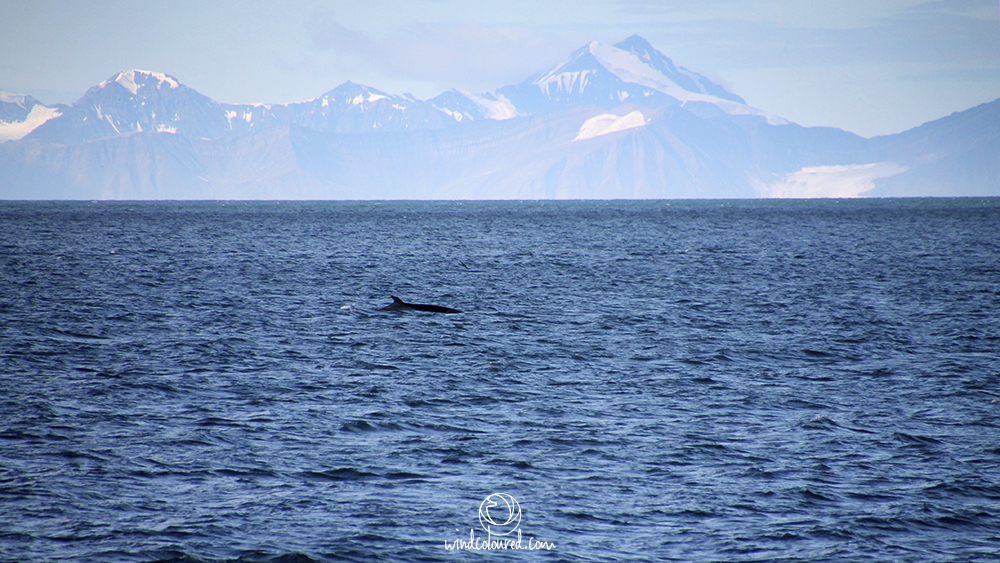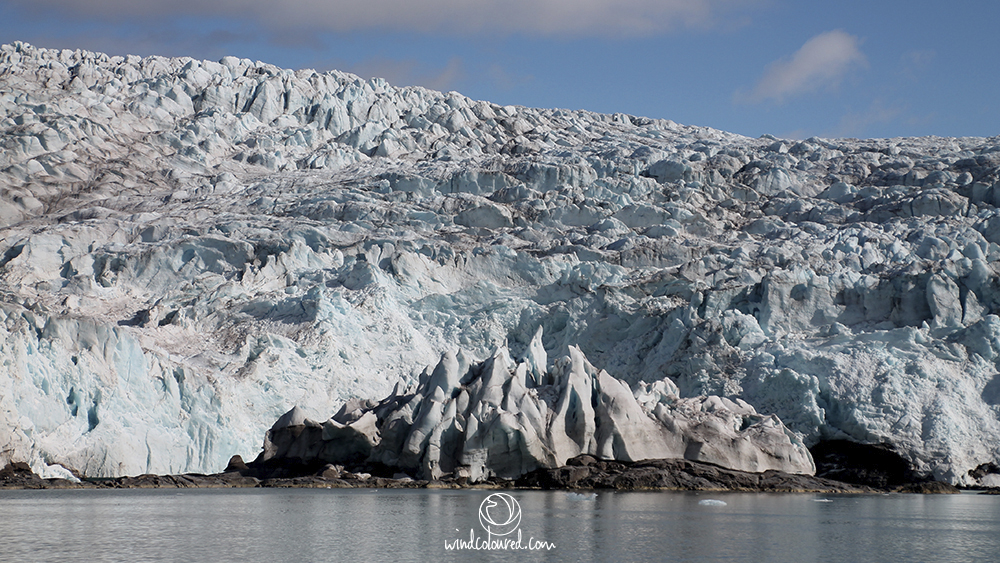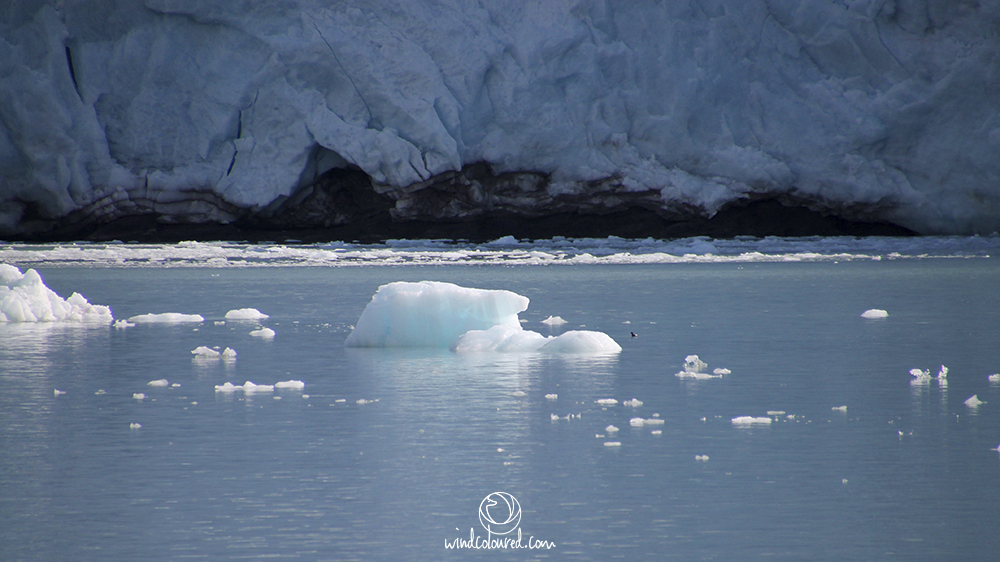 Finally, a polar bear.
"Keep your eyes open, this is polar bear land."
Cameras and binoculars are scanning the banks of the fjord but in the end it is Jim who's trained eye spots the king of Svalbard. It is a huge male bear but even he is hard to spot in the vast grey and rocky landscape around the glacier. Then I see him and get a couple of snapshots even though lazily lying on the rock. It is a unique experience that we will never forget.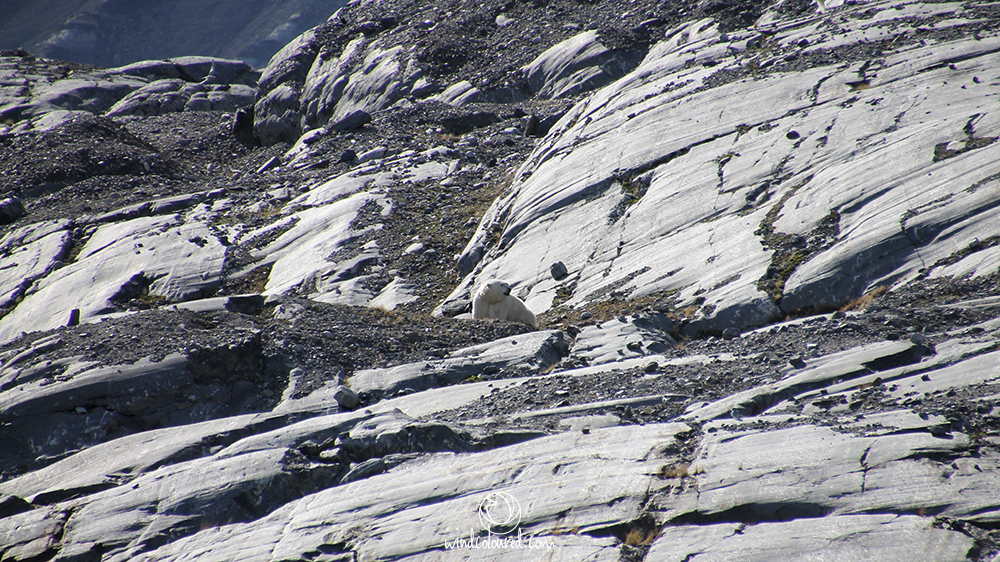 We toast with a Scotch that our captain has poured over crystal clear glacier ice and happily enjoy the view while sailing towards Pyramiden.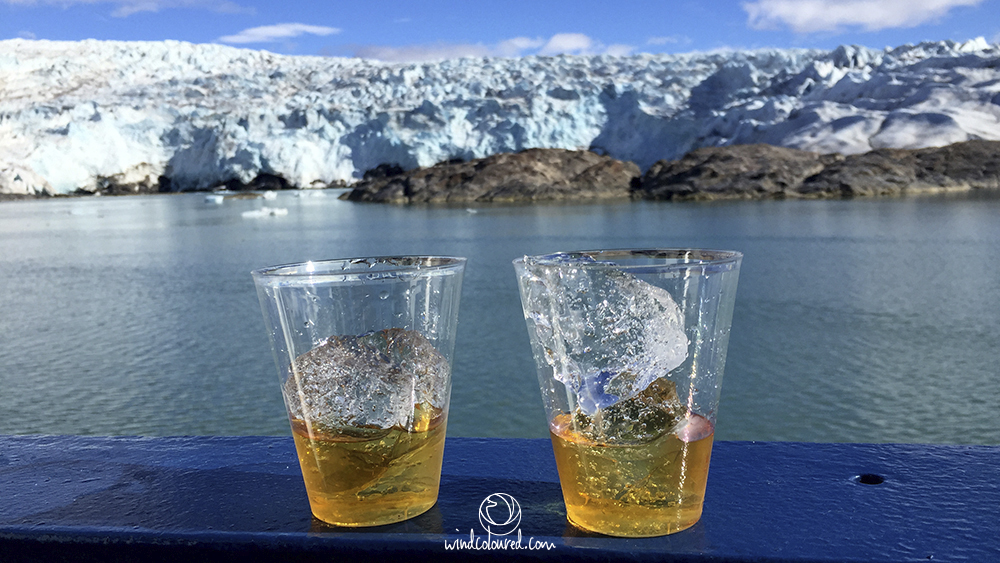 Abandoned Pyramiden
Back on solid ground Sergej takes over the group. He will guide us through the abandoned town. Still in polar bear territory we're not allowed to wander off on our own. Pyramiden is like a post-apocalyptic world. Objects are lying around as if people abandoned the place from one moment to the next leaving everything where it was that moment. Old film rolls in the theatre, balls in the gym, unfinished drawings in the classrooms. and last but not least: World's northernmost statue of Lenin and the northernmost swimming pool without water (cause Ny Ålesund has one with water).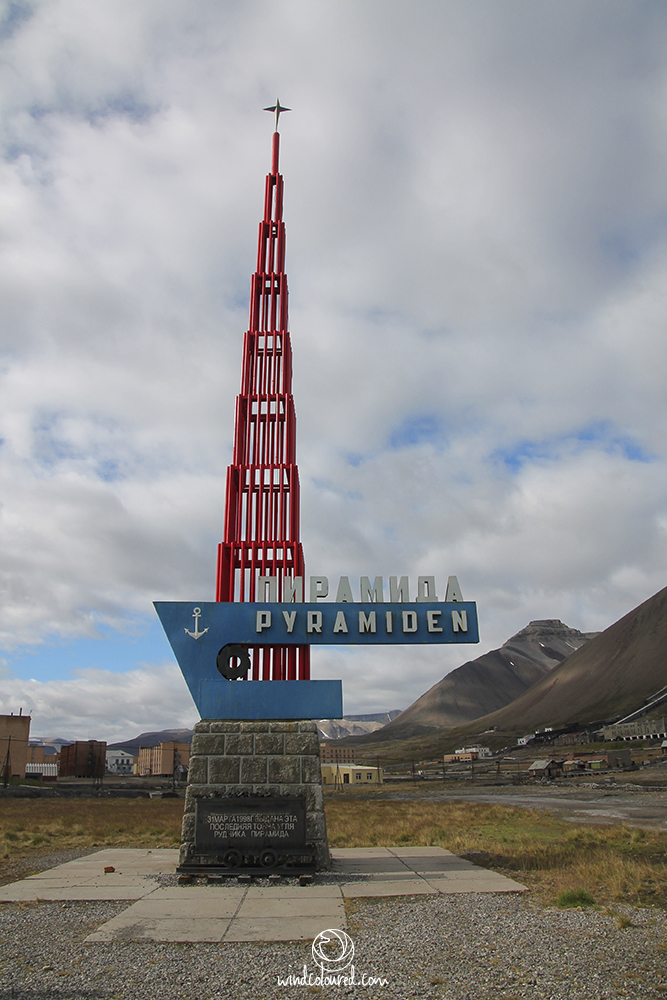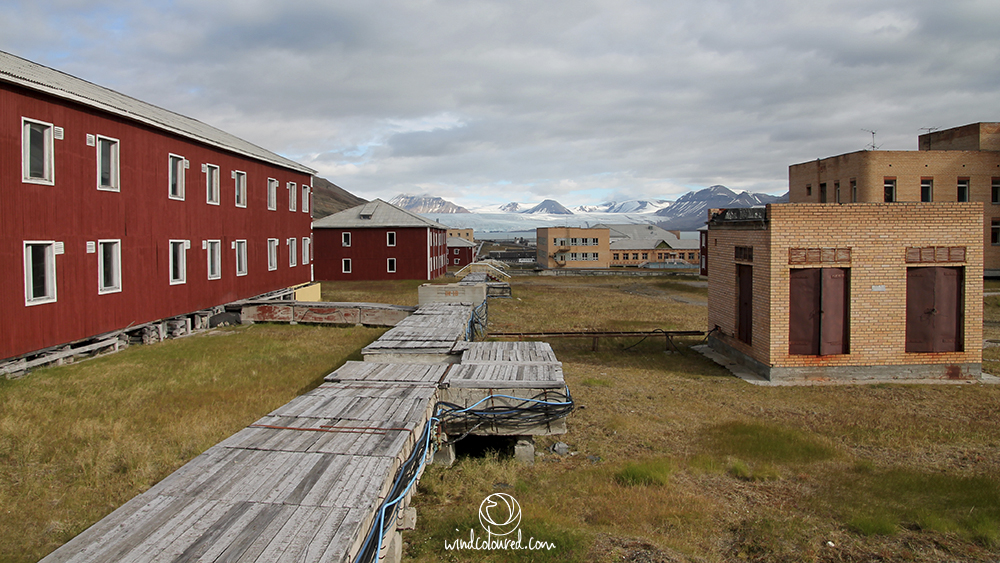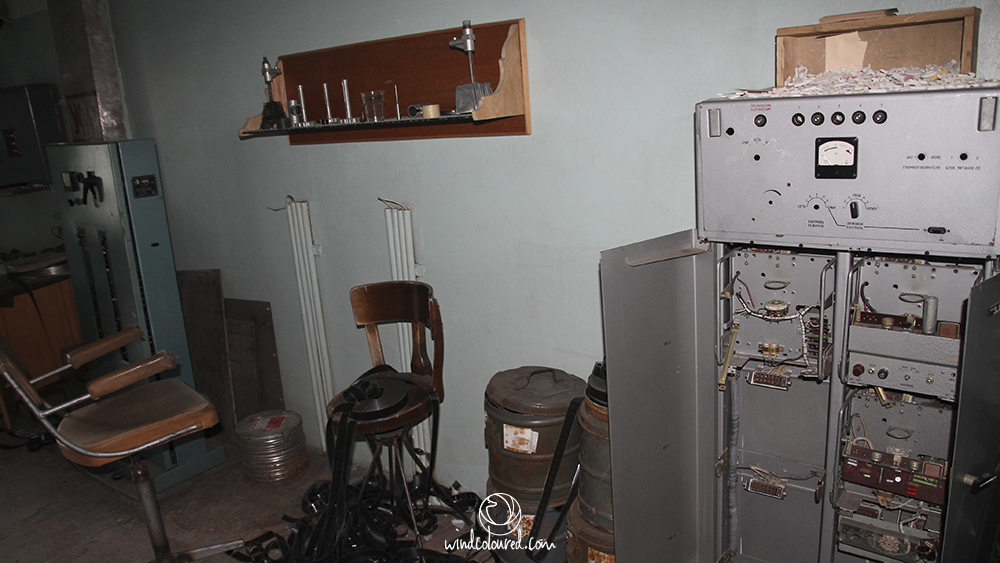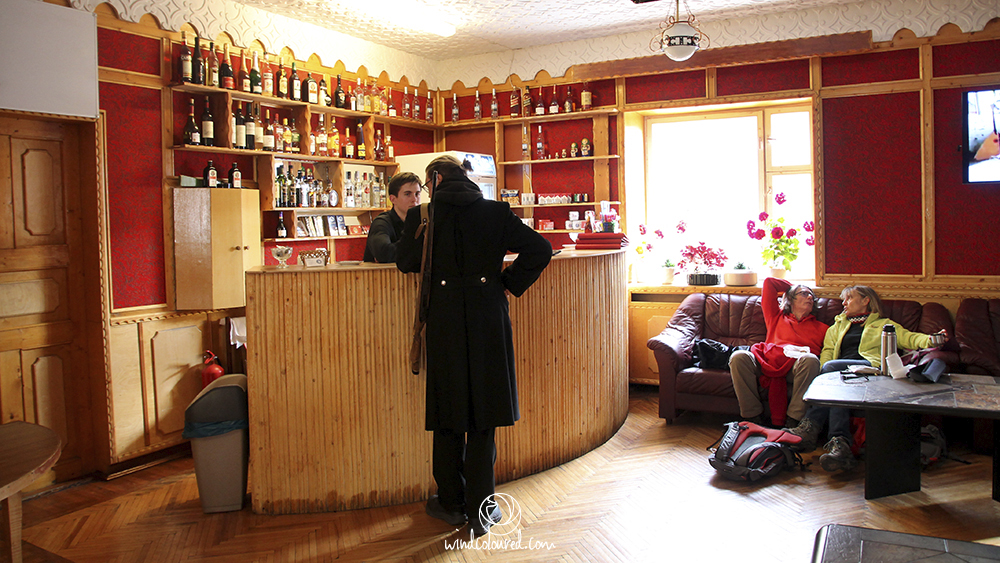 The northernmost pub in the world provides us with a couple of drinks before we head back to Longyearbyen. With a clear blue sky we sail back through the vast fjordland with its lonely gravel beaches and reindeer roaming the landscape. Hot chocolate in hand we listen to some more of Jimmy's stories before we leave the ship, exhausted but happy about this eventful day.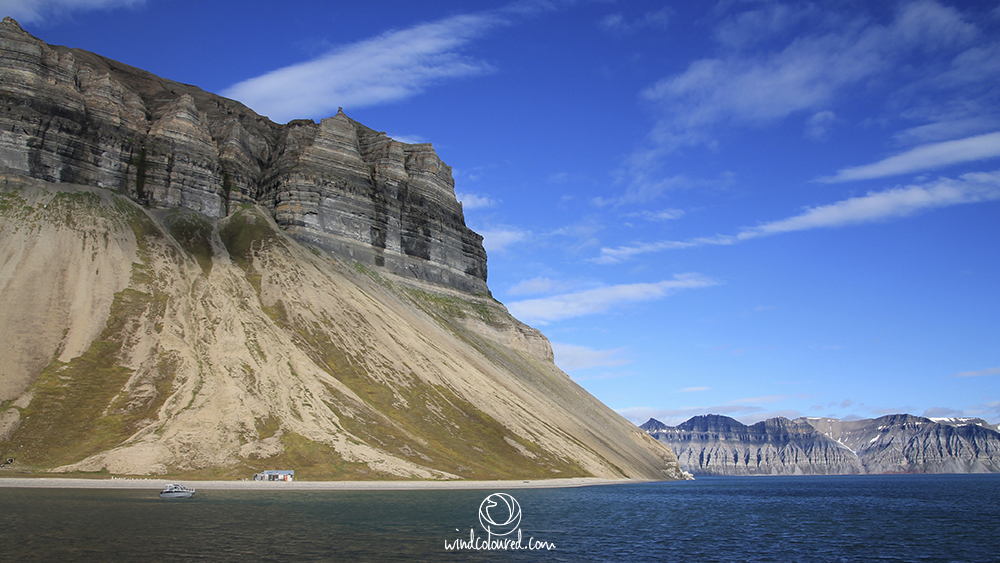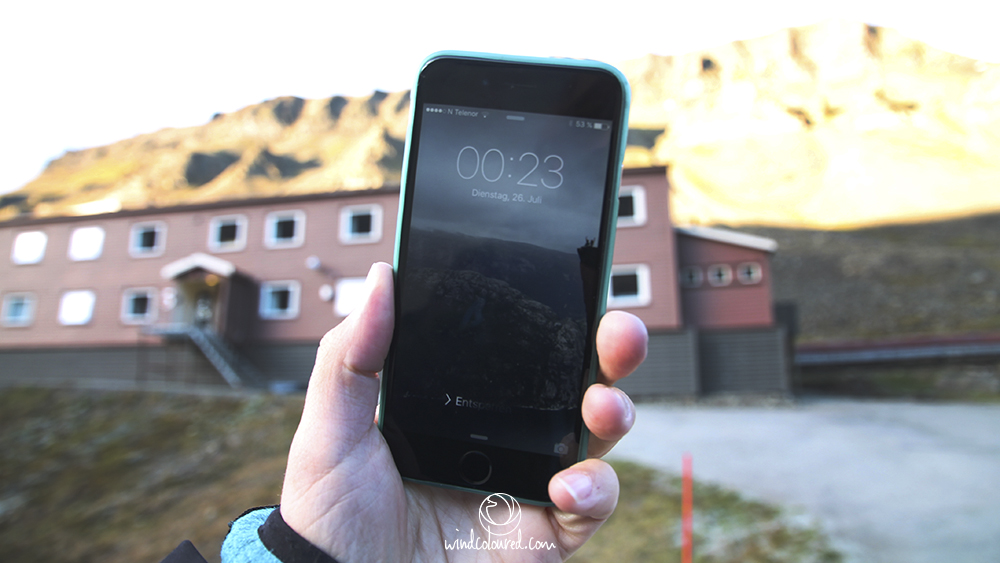 Goodbye Svalbard
We take a walk through Longyearbyen next morning and visit the little church (not without taking our shoes off, of course) and the Svalbard Museum – in socks. Svalbard treaty, flora and fauna or geography: The Svalbard Museum fills in all the gaps still left.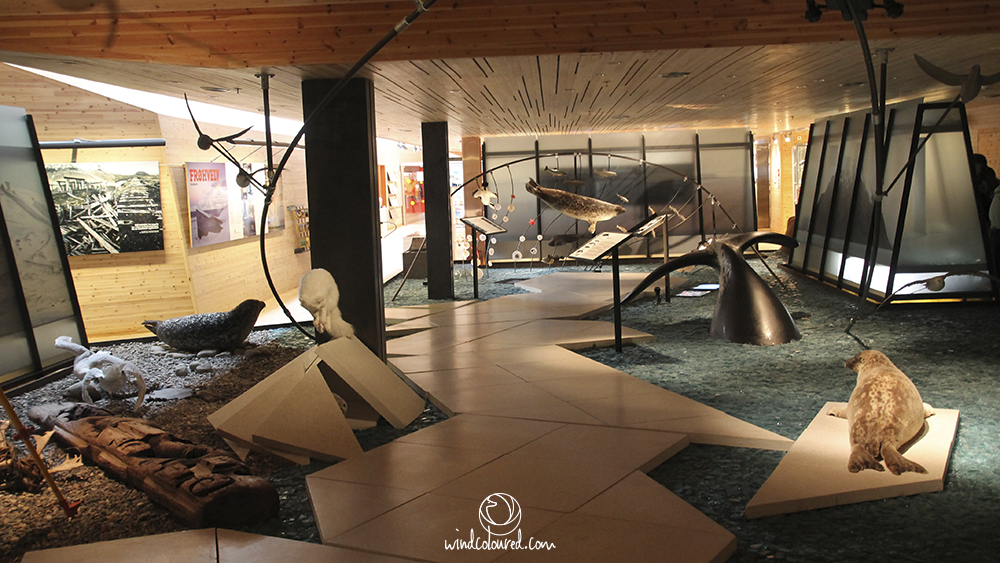 At noon we're back on the plane. We have one last wonderful view over Longyearbyen, the surrounding fjords and mountains, the snow. Svalbard is, compared to the rest of Scandinavia somewhat relentless, the temperatures do not rise above 8°C in summer, there is no single tree on the whole island. And still Svalbard is so majestic and untouched. A living space. And an experience that presses the reset button. We take a deep breath and fly back to reality in Tromsö. Svalbard? Svalbard is a different world.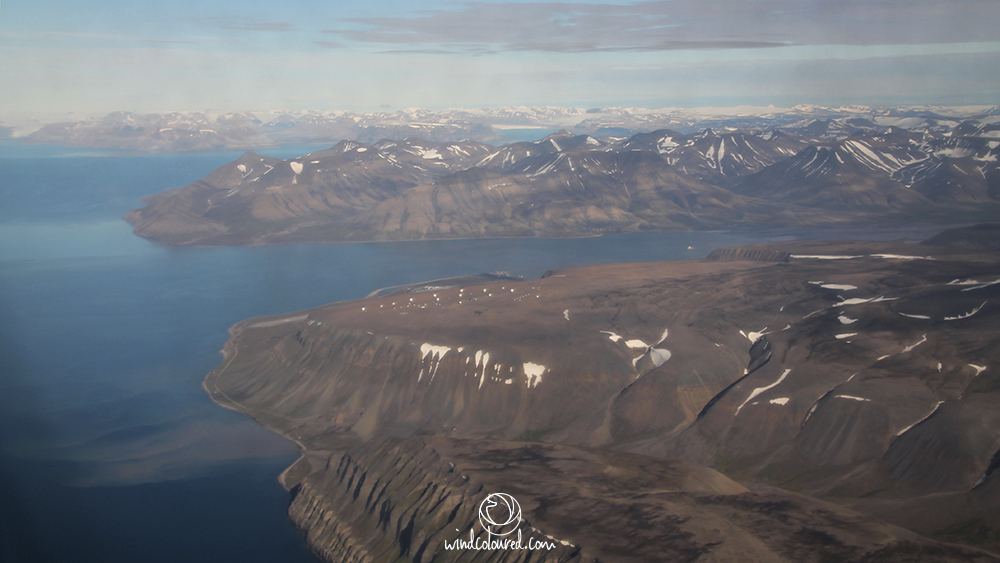 ---
German version of post at Urlaubsliebe-Community